While we adjust to new ways of working, schooling and living in general, we thought it would be a good time to check in with the British Arrows board and see how they're dealing with the new normal.
We asked Tracey Cooper, Executive Producer at Nexus Studios about what the recent events mean for animation & VR, what changes she thinks will happen to the industry and what she's learnt and what she's most looking forward to on the other side of all this…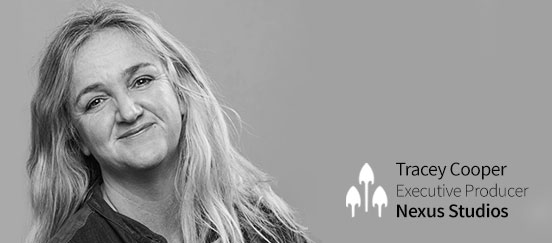 British Arrows: Do you think that animation & VR will become more prevalent due the events that have unfolded?
Tracey: Yes, if early indications are anything to go by. At the start of the situation we saw a massive influx of scripts that had obviously pivoted from Live Action to animation as people realised they could not shoot. Some came attached with the original live action director (and it's not actually that easy to just suddenly start directing animation!) and wanted us to facilitate like a post house and some were open to a totally new animated approach and director but still came with the original (short) live action schedules which meant they could not be turned around in the time.
Now though we are seeing scripts specifically written with animation in mind and a stronger commitment to projects overall now that the initial panic has, if not subsided, then become more familiar to us.
With regard to VR, we were already seeing an increase in the number of XR (Virtual Reality / Augmented Reality / Mixed Reality) projects being commissioned. It's difficult to say whether we will see a further increase as a consequence of COVID-19, but we hope that this situation may inspire creatives and brands to work in alternative mediums, if it suits the brief.
I think with both animation and VR/AR we are keen to show that it's a solution to some of the current issues facing the industry but it's not a quick or short term one - the craft involved in both means it does still need respectful schedules but it can be executed under these more restricted working practices.
I think the adaptability to this new normal is slightly less abrupt than it would have been 5 years ago; remote working, virtual production/XR have all been on the horizon for some time and events such as these may well end up accelerating trends we have predicted for a while... if people try animation/XR now it may have a sustained impact on our industry but if we have learned anything in past few months, it's that no one can really predict with certainty anything much anymore!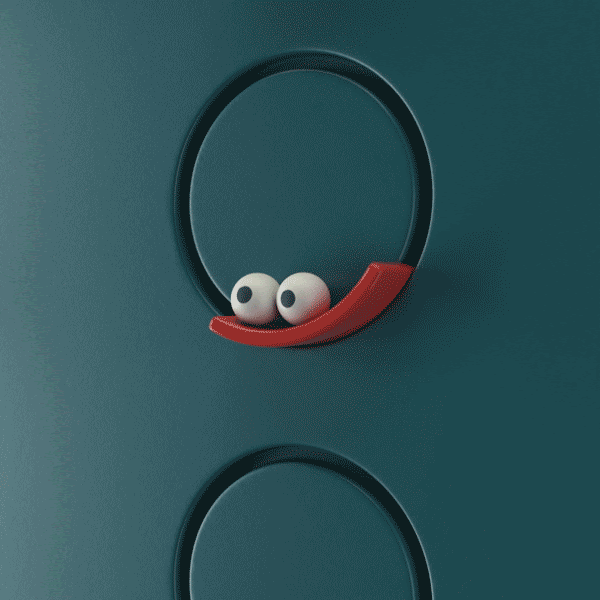 British Arrows: Has your process for working on projects changed because of this? If so, how?
Tracey: Not really, we have a large 100+ seat studio in London and more seats in our LA and Sydney studios, so we have always been able to cope with multiple jobs at once and adapting scripts. It's also levelled the playing field somewhat in terms of accessing talent across the world as no one is truly local anymore. I think what we did do pretty early on was make sure everyone knew what options were open to them in terms of creating content for clients in VR/AR or animation so that if any agency producers needed a guide to Animated Techniques possible in a global pandemic, we had that information in one handy place, with example animations and accompanying timelines. I mean who doesn't have their Pandemic Animation Manual (PAM) already written and set to go?!

British Arrows: What measures have you/your company put into place to ensure business can proceed as much as possible?
Tracey: In the weeks prior to lockdown we had already started the task of making sure our studio could operate entirely remotely. All crew were set up with remote working systems such as Team Viewer or Anydesk which allowed them to access their more powerful work desk and utilise the render farm. Production were all provided with a VPN so we could access the server, and we had an amazing working from home presentation created as lockdown hit that had all the company information we needed in one place, with suggested working practices and tips on how to manage mental wellbeing and stay in touch with each other. Slack was used companywide anyway and has remained invaluable. Google Hangouts and Zoom were standard use previously as we do a lot of remote work worldwide.
We had several jobs already in production and a few that were about to start, so we have now got experience in all stages of remote management, from script development to final delivery and it's been amazingly very smooth. Although trying to give animators detailed feedback to work being displayed in a VR headset whilst on a Google Hangout does have its challenges! (see photo below)
Personally, my Directors and I currently have two jobs in production. One is a seven minute 2D animated film and another is a 45 second 3D animated commercial. We hold daily 'stand ups' on Hangouts with up to 22 crew where we discuss everything from the shot they are on that day to the welfare of their pet fish and what they are having for tea. It's a crucial part of managing an entire remote team – both for the workflow but for the personal connection. There are also weekly 'socials', quiz nights and Virtual Fit Clubs. In short, everyone is making the best of this and trying to be as adaptable as possible whilst obviously acknowledging this is not normal and it can be bewildering and a bit scary.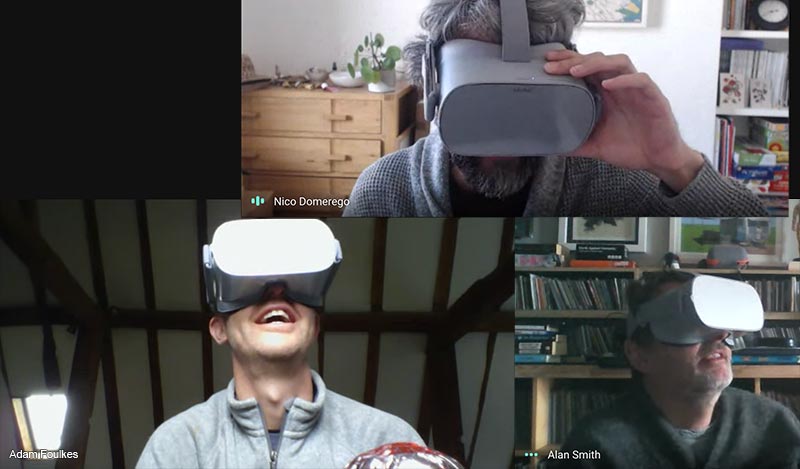 British Arrows: What changes have you made to your life because of this that you now consider to be positive changes?
Tracey: I think I am still processing everything, and only just coming out of the adjustment to this not being a state of temporary emergency but something that will be with us for a while. I am slightly envious of all the people I see on social media – I really need to stop looking – who are taking up painting again or cooking wonderful meals. This feels impossible for me; my working day is busier and more intense than ever before and at weekends, I try and sit in the garden, hang with family and I eat a lot. I mean a lot. I am not going to beat myself up about not having discovered a lost skill or failing to learn Mandarin though. I am running 6km almost every day. In a world where I have quite literally no control over anything anymore, I realise I always seek to have one thing that is routine, reliable and entirely within my power to maintain. Getting out and running is that. My knees really, really hurt though. One positive change though will be not taking anything quite so much for granted again.

British Arrows: Which changes (within your life or broader) do you think will be permanent?
Tracey: The need and desire to reach out to people and connect will stay I think. I have stopped texting and started speaking way more than I ever did before. Although if I never do another Zoom call in my life I won't be upset! Just watching my own face that much is unhealthy!
I know a lot of people will be fearful, once the lockdown is lifted, of going out still… The fear and suspicion of proximity to people will be there for a lot longer than the virus itself. Which is awful as hugging and touching is so important and now I have so much less of it in my life, I miss this a lot. People will push much harder for the right to work from home if they feel they successfully managed it during this period. I think fiscal prudence will stay with us for while also. The complete and utter shock of not suddenly having an income or having it drastically reduced will make people realise the danger of having no buffer.
I also really, really hope that this wave of appreciation for the NHS translates into something long term and tangible.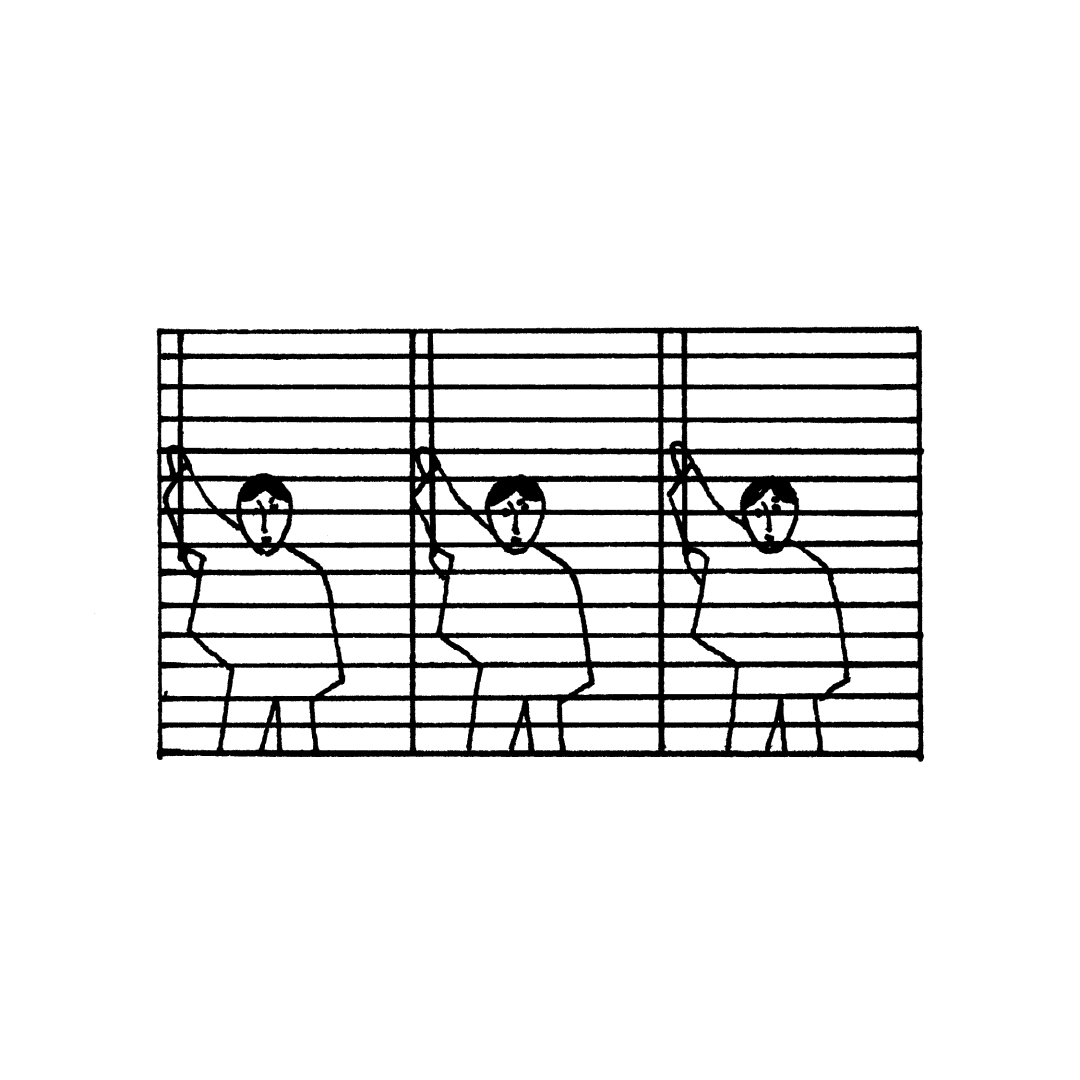 British Arrows: How do you foresee the industry changing because of what has happened?
Tracey: Obviously, we have already seen an immediate cut back in some advertising spend. We saw many scripts die a few weeks back due to general economic nervousness on the part of the advertiser and some of our more event driven work has postponed or cancelled (Olympics being one). Huge swathes of the industry have been placed on furlough and the live action crews have been left high and dry by falling through the gaps of Government aid. It's going to take a while for the fallout of this to be fully realised and for any recovery to take place. It's not the lockdown that will be the problem, it's the slow and partial recovery stages afterwards....
I have seen some interesting changes already though... We are currently working on a script that the client deliberately changed to be set entirely in the home (originally it ended in a school), because that's the new reality for most of its customers. We also had a Pre-Production meeting last week, that lasted under 25 minutes with the client agreeing to storyboards, cast and all design immediately. Unheard of! Maybe arguing over whether a mustard coloured rug suits the brand or the music is just not zeitgeist enough seems a little vacuous in these uncertain times and we can head into a simpler world where the client trusts the agency and directors to do their job well and no one feels the need to die in a ditch over the small, and mainly insignificant aspects, of our noble profession. (Laughs)

British Arrows: What are you most looking forward to when things return to normal?
Tracey: My daughter going back to school. She misses it dreadfully and I most definitely do not have the patience for home schooling. That I HAVE learned about myself.
Laughing in the same damn room as my friends.
A cup of tea with my mum
Ordering from a menu.

Do you have any recommendations for things to see/do online for kids/elderly/vulnerable people inside for a prolonged period?
My family and I have been doing a weekly quiz every Sunday. Its super easy to download pub quizzes online and I make up picture rounds in shared Google slides. I am super competitive and have to win which is a bit of a buzz kill for everyone, so I am the quiz master. My boyfriend bought a piano teaching kit online and has tuned our piano.