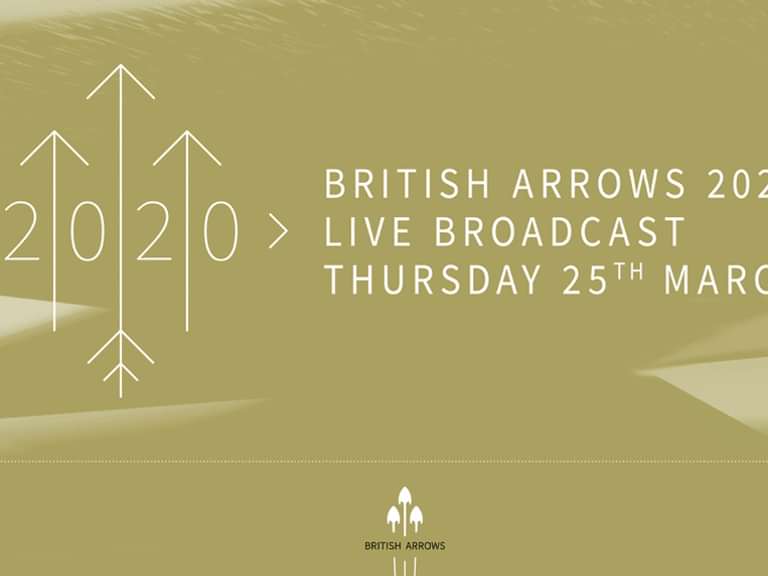 The British Arrows 2020 Awards Show New Date & Format
---
Statement from The Board of Directors
25 August 2020
The British Arrows is a not-for-profit organisation that was started by the industry for the benefit of the industry. We have been celebrating and honouring your ideas and craft for 44 years.
When we postponed the British Arrows 2020 show in March last year and then again in July, none of us imagined that we would find ourselves reviewing our ability to host the awards one year on. However, uncertainty continues to prevail, and it is with heavy hearts that we are reviewing our plans yet again. Whilst we had sincerely hoped to celebrate together at the Grosvenor House, COVID-19 seems to have other ideas and even a further postponement now lacks certainty.
We feel that we must get on with the business of presenting the winners their 2020 Arrows. In conjunction with our event planning team, we will be creating a live event, which will be as close to the original show as possible. On March 25th we will hold a celebrity hosted, livestreamed event at a new London location. Working within strict COVID-19 guidelines for broadcasters, we plan to present some awards in person, some via live video link and some will be recorded.
Today, however, we face a stark reality. The future of the British Arrows and its 44-year history has been put at risk due to the pandemic. Our inability to complete 2020 as planned and the merging of the 2021/22 Awards has had an impact on the British Arrows' financial viability. The organisation incurred massive costs in 2020 when the pandemic struck just ten days before the originally scheduled event.
Nevertheless, despite our non-refund policy, the Board have agreed to offer a partial refund for every ticket holder. Once we recoup sunk costs, this allows us to return 40% of ticket cost. We appreciate that everyone has been affected by the pandemic, and some organisations will need to recoup all the expenditure that they can. However, if you are able to donate your 40%, you would be helping to preserve the British Arrows for future generations. For those organisations and individuals who are willing to donate this refund, we will provide additional secure logins to the live show to extend to more members of their organisation.
Over the coming weeks, each original ticket purchaser will receive an email from us asking how they would like to proceed.
With your continued support the 2021/22 Awards will open for entry this Autumn and the celebration we all hoped for will take place at Grosvenor House in 2022.
Thank you for your understanding
Clare Donald and Jani Guest
Co-Chairs – The British Arrows Awards