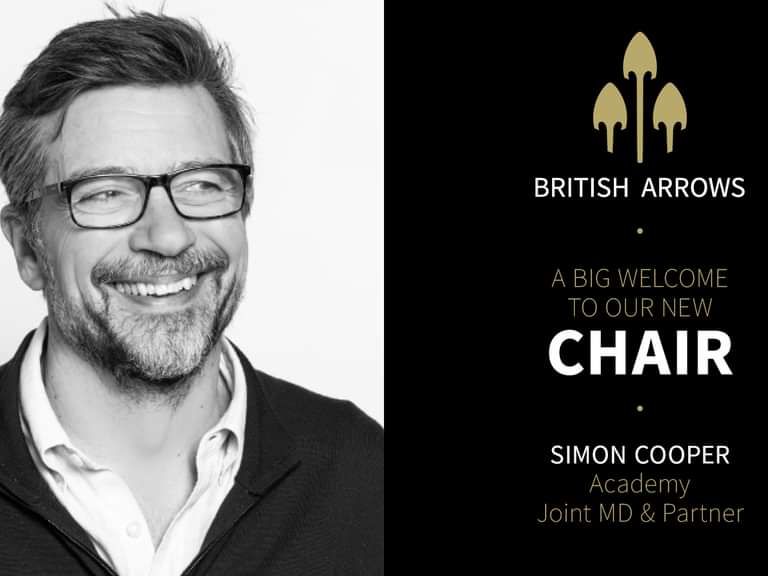 New British Arrows Chairman
---
British Arrows Announce Simon Cooper As New Chair
3 May 2023
The British Arrows, the longest running advertising industry awards, are delighted to announce Academy's Joint MD and Partner, Simon Cooper as their new Chair.
Cooper takes on the role after the previous Joint Chairwomen, Jani Guest and Clare Donald stepped down after four successful years at the helm of the most respected and coveted of all the British advertising awards.
Pioneers in championing, awarding and celebrating the innovation, bravery and artistry of moving image advertising, the British Arrows is unique in that it is the only awards body solely dedicated to moving image advertising. To be Chair of such a revered organisation is an important and respected role.
Cooper explains why he took up the mantle. "It's obviously an enormous honour to Chair the Arrows and I was immensely flattered when Jani and Claire proposed that I take over. Given that, currently, new Chair-people can only be drawn from the existing board, which is a fairly small group of successful and extremely busy people, the question becomes more about who feels they can give the required time and energy to it. I felt I could.
Cooper goes on to talk about his plans for the future of the British Arrows, 'It's vital to maintain the Arrows relevance, interest and affordability to an industry that is more creatively and financially challenged than it has ever been.
The organisation is not-for-profit, so honing and tweaking the categories, the prices and the sponsorship to keep it financially viable are critical.
Lisa Lavender, Managing Director of the British Arrows comments. "It's a privilege to be working with Simon as our new Chairperson. With him as our leader I'm hugely excited for our future as we prepare to launch the second Young Arrows and make plans for the 48th British Arrows.

SHOTS interviewed Simon ahead of his announcement as Chair. To read the full article, click here