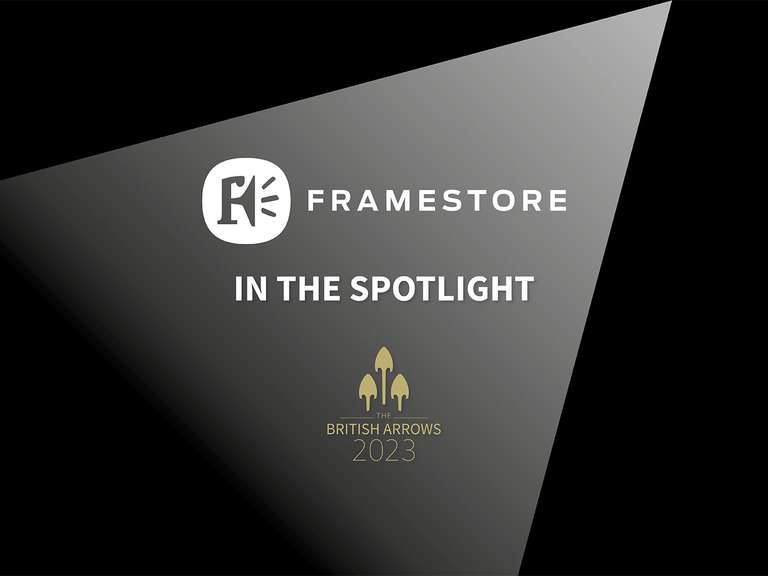 In the Spotlight - Framestore
---
With Mike McGee, co-founder & CCO, Framestore
14 March 2023
With three feature films shortlisted for the 2023 Oscars, for which Framestore's teams handled the VFX, the company's pixel-perfect reputation for bringing extraordinary ideas to vivid life has made it a creative industry leader in visual effects, animation and much, much more. With more than 3,000 creatives now working in its talent pool across seven global locations, the Framestore remit covers blockbusters, brands, immersive projects and television, and its record number of Cannes Lions, as well as BAFTAs and Oscars, has secured the creative studio's position at the front rank for craft, imagination, technology and innovation. Mike McGee, one of the original founders, has a blockbuster pedigree when it comes to weaving that ole screen magic – whether that be on Nanny McPhee or Walking with Dinosaurs – and as a live-action director with an exceptional understanding of visual effects.
So, Mike, how has the past year been for you?
It's been challenging in many ways, one where our core skills of creativity, problem solving and innovation have been applied to reimagine the way we work. I really enjoy first-time experiences and 2022 has been extremely generous in providing lots of them by forcing change at an unprecedented speed.
Thousands of Framestore artists, technologists and producers can now work seamlessly from home or in the office. Our interactive communications technology has enabled us to continue and develop our training courses, mentoring programmes and creative workshops.
Finally, I've enjoyed watching our team developing the tools and techniques that will enhance virtual production and the craft of LED filmmaking.
What's the big takeaway you'd carry over to 2023?
Strong communication is not only vital to attract and win business but is equally as important to attract and retain talent.
By innovating and showcasing new ways to generate content during the pandemic (such as virtual production, photoreal CG, deep fakes, AI image generation) we have augmented client relationships and provided the most interesting, challenging and rewarding projects for our creative problem-solvers.
What's the best idea you had in 2022 and how did it work out?
My best idea was to improve my physical and mental agility after the sedentary period of enforced working from home. I got on my bike, signed up for several charity rides and ended up completing 10,000 km in 12 months. Looking for creative inspiration I crammed in as many concerts, plays, cinema visits and exhibitions as possible, my highlights being Jerusalem and Prima Facie. The results were increased energy levels, better sleep, a clearer mind and a healthy lifestyle.
What were the change-making developments in craft and tech?
For Framestore, an increase in R&D was the rapid response to a global shutdown in production. As a result we developed many proprietary tools to enable remote working with real-time interactivity. We invested in our virtual production capabilities to allow short and longform multi-location projects to be recorded in a single location studio.
Moving photo-real environments are rendered in CG and played back through large, high-resolution LED panels. The actors perform on sets constructed and lit in front of the screens and the results are all captured in camera. Check out 1899 on Netflix – interiors, exteriors, shots at sea, all often augmented by smoke and rain machines.
How has ideation and creativity evolved and responded to the real-world challenges of a very challenging 2022?
As sustainability rises to the top of the global agenda at an exponential pace, we have seen creativity and ideation adapting to planetary priorities. Projects like Sheba's Hope Reef have been imagined and realised through virtual technologies, helping reduce the carbon footprint of the traditional filmmaking process while highlighting the damage to the world's underwater ecosystem through global warming.
We are seeing a proliferation of 'ideas for good' that not only want to initiate change with a call to action but which want to be as sustainable as possible in all aspects of production.
Will remote and hybrid ways of working continue to be the industry norm, and how may that impact the work, how it's done and who's doing it?
From a VFX perspective, hybrid working is here to stay. Within a matter of weeks thousands of VFX artists and their equipment had left our global studios and were working from home. A huge amount of technical and systems support resulted in every project being delivered on budget and on schedule, with zero impact on quality.
The challenge for the VFX industry is how to nurture, motivate and inspire your teams when everyone is potentially a solo artist at home. Finding a strategy for team-building, training, mentorship and career development that combines remote working with some office time will be key to business success. For Framestore it is spreading the company culture that was grown in an office but also needs to work at home.
There is not one single solution to this challenge.
What would you choose as the year's best campaigns or pieces of work, and why?
I have three favourites. The first is Burberry Open Spaces – I love how 'freeing' this feels. After the containment of lockdown this ad for me captured the emotions of dressing up, going outdoors, getting away from the city, smelling the fresh air, taking a deep breath… Then letting go, being picked up by nature and carried weightless through the air, skimming over fields while laughing with your friends and family… Concluding with a group hug… A simple idea, beautifully executed, perfect timing.
Rocky for Ladbrokes – This punches my nostalgia button. That iconic sequence with its iconic music has been given a modern twist that makes it both contemporary and classic. I smiled the whole way through as I admired the seamless integration of the additional characters, objects and artefacts.
Bodyform, Periodsomnia. Having to follow the huge success of Womb Stories must have been a daunting challenge. I imagined the surreal scenes as moments from dreams, broken dreams, snapshot memories – all heavily graded to convey different moods and different times of night, while illustrating all the dark sides of period cycles – farting, bloating, bleeding and pain! I watched it several times over to not miss anything.
Which Christmas campaign in 2022 won you over?
I really enjoyed Asda's Have Your Elf a Merry Christmas. Again, like Rocky, the nostalgia of the Elf movie and the fact that all the lines and actions were taken from the original film really made me appreciate the craft of making this Christmas ad. My children call me to watch it when it comes on as it's their go-to movie at Christmas. The script, the editing and the seamless retro-fitted VFX made this my favourite Christmas spot.
What was the biggest surprise of 2022?
My biggest surprise was seeing Paddington have tea with the Queen. Having made Paddington 1 & 2 and being in production of the third movie, I had no idea he had managed to squeeze in an audience with Her Majesty. I felt delight and sheer happiness watching Paddington and the Queen sharing tales of their sandwiches.
What trends do you see emerging as we focus on the coming year?
I see a focus on advertising with a purpose. Like Sheba's Hope Reef, brands need to align their promises with action. Sheba are growing an actual coral reef to sustain sea life. Messages will need to be authentic, because audiences and consumers are questioning the truth.
Gen-Z are the first generation to grow up with the internet. Advertising for them must be snappy, dynamic and very visual. They are engaged with technology and embrace augmented realities. Overlaying virtual content through AR applications will increase and become more sophisticated.
Short-form content will be more in demand – snackable narratives that can be consumed on multiple platforms and are easily shared.
What do the British Arrows mean to you, what's their role in the industry and what's the impetus behind becoming a sponsor?
For me the British Arrows exists to identify and celebrate the finest creative work that is the result of bold ideation and ambitious craft. It is important to recognise the risks that were taken and the trust that was placed in collaborators. The Arrows' role is a signifier of quality and excellence.
Framestore sponsors the British Arrows as we share an appreciation for creativity, craft, technology and innovation. We are often challenged to do something that has never been done before, and it's through trust, collaboration and ingenuity that we discover creative solutions.
What do you think will win commercial of the year?!
I will keep an open mind until I have seen all the entries!