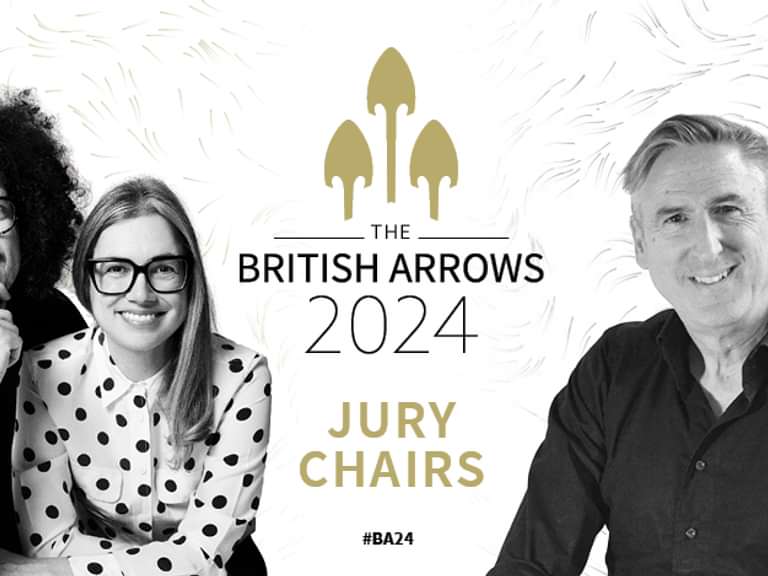 British Arrows Announce New Jury Chairs
---
2024 Award Entries Open Monday 2nd October
13 September 2023
With Call for Entry for The British Arrows 2024 show opening on Monday 2nd October, the British Arrows are delighted to announce Hermeti & Ana Balarin, Chief Creative Officers at Wieden+Kennedy, as Chairs of the 2024 ARROWS Jury and Rick Russell, Founder Editor at Final Cut, as Chair of the 2024 CRAFT Jury.
Simon Cooper, Chairman of the British Arrows Board, comments, "It is one of the great pleasures of being Arrows Chairperson that you get the opportunity to reach out to people you genuinely admire and tell them how fantastic they are and why they would make perfect Jury Chairs. So it was with Ana and Hermeti and Rick. All three are legends of the industry, have impeccable creative instincts and universally respected taste, and seem to be loved by all. I can speak for the whole board when I say that they were our first and immediate choices and we are absolutely delighted that they agreed so readily to be our 2024 Chairs."
Jury members to be announced during October, November and December.
The British Arrows 2024 offers entrants a full year of eligibility from 1st January 2023 to 31st December 2023, and the iconic show will be taking its place as the UK's first advertising awards show of the season on Thursday 21st March 2024 at The Grosvenor House Hotel on Park Lane.
Three new categories have been added to the awards –The Green Arrow and Seasonal Celebrations to the ARROWS and Innovative Use of Real-Time & 3D to the CRAFT awards.
ENTRY site opens on Monday 2nd October 2023 | Download 2024 Entry Pack HERE
Tickets for the show will be on sale from Monday 4th December 2023.
SHOTS spoke with Hermeti, Ana, and Rick ahead of their announcements as Jury Chairs. To read the full article, Click Here
Key Dates:
2023
Monday 2nd October Early Bird Entry Opens
Monday 30th October Standard Entry Opens
Monday 4th December Ticket Sales Open
Monday 18th December Late Entry Opens
2024
Wednesday 10th January Entry Closes (No extensions to the entry period are possible)
Thursday 12th February Shortlists Announced
Friday 8th March Ticket Sales Close
Thursday 21st March Winners Announced